Products
Life's Abundance
Life's Abundance is veterinarian-formulated with select ingredients to help your pet achieve and maintain optimum health. Using a "fast-cook" process to help preserve the nutritional value of each and every wholesome ingredient.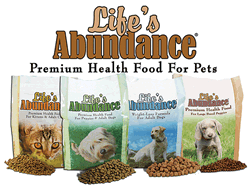 Life's Abundance is made with the finest ingredients, including:
An excellent blend of Vitamins and Minerals
High-quality Chicken and Catfish for strong muscles
Antioxidants including vitamins A, C and E
Nutritious vegetables and fruits
Omega-3 fatty acids for healthy skin and shiny coats
Calcium and Phosphorus for healthy teeth and strong bones
Dietary fiber to help maintain a healthy digestive tract
You will never find any of the following in Life's Abundance Pet Foods:
No Artificial Flavors or Colors
No By-Products
No Corn or Wheat
No Artificial Preservatives
Pet Armor
How It Works
Quickly. Easily. Monthly.
The active ingredient in PetArmor® is fipronil (the same as in Frontline® Top Spot®). PetArmor works the same way as Frontline Top Spot, providing full-body protection to help keep your pets flea and tick free. And they stay gone for 30 days. It's that simple. PetArmor is just as safe and effective as Frontline Top Spot.
PetArmor contains fipronil, so it kills fleas and ticks on your pet. Even new fleas that hatch later will be killed when they jump on your pet.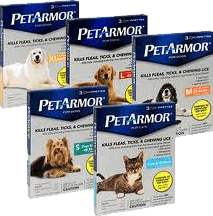 How It Compares
It's a fact. The same active ingredients and the same flea and tick protection as Frontline Top Spot.
For years, Frontline Top Spot was the only flea and tick medication of its kind on the market. Now PetArmor® offers the same active ingredient (fipronil), in the same concentration as Frontline Top Spot, and it's just as safe and effective against fleas and ticks. Fipronil is the number-one active ingredient recommended by veterinarians for flea and tick control.
Why the same, for less?*
PetArmor is a generic version of Frontline Top Spot with the same active ingredient-fipronil. The fipronil patent (U.S. Patent # 5,232,940) has expired, clearing the way for generic products to be available. We've made it up to 50% less expensive* and available in stores where you shop, because we'd like to help more pets stay flea and tick free. Currently available at Canine Cabin LLC.